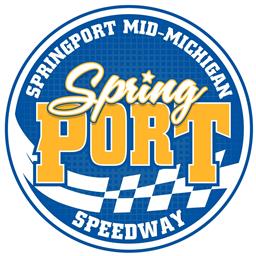 8/13/2022 - Springport Mid-Michigan Speedway
Springport, MI
8th Running of the HOT SHOE 100
The 8th annual Hot Shoe 100
100 lap Modified feature $10,000.00 TO WIN!
40 lap Street Stock feature $1,700.00 TO WIN!
40 lap Portstock "A" feature $1,000.00 TO WIN!
Dry camping opens Weds, Aug 10th at noon. Practice Friday followed by PARTY IN THE PITS! with more practice on Saturday and The 8th running of the HOT SHOE 100 Saturday night!
Modifieds Powered by NOS Energy

50 entries

Dragon Racing Fuel Street Stocks

19 entries

Port Stocks

41 entries
Full Event Information on MyRacePass
Modifieds Powered by NOS Energy
Finish
Start
#
Competitor
Hometown
+/-
1
3
46
Cody Stickler Pinellas Park, FL
Pinellas Park, FL
2
2
6
37
Trevor Berry Clio, MI
Clio, MI
4
3
1
57
Blake Rowe Ortonville, MI
Ortonville, MI
-2
4
7
5
Jeff Ganus Constantine, MI
Constantine, MI
3
5
2
11
Brian Nester Hamilton, IN
Hamilton, IN
-3
6
13
95
Derrick Griffin
7
7
12
78
Travis Eddy Beaverton, MI
Beaverton, MI
5
8
9
7W
Josh Ware Barbeau, MI
Barbeau, MI
1
9
8
5J
Danny Jackson Loveland, OH
Loveland, OH
-1
10
23
24
Buddy Gray Petoskey, MI
Petoskey, MI
13
11
24
55
Steve Saddison ALANSON, MI
ALANSON, MI
13
12
21
05
Greg Fullarton Howell, MI
Howell, MI
9
13
22
12
Brian Bergakker Middleville, MI
Middleville, MI
9
14
11
65
Jonathan Martin Leo, IN
Leo, IN
-3
15
14
1W
Michael Luberda Augres, MI
Augres, MI
-1
16
20
12L
Nick Lechota Flushing, MI
Flushing, MI
4
17
4
70X
Tom Rutherford Bangor, MI
Bangor, MI
-13
18
19
31P
Jason Parish Eaton Rapids, MI
Eaton Rapids, MI
1
19
18
7V
Dominique Van Wieringen Amherstburg, ON
Amherstburg, ON
-1
20
10
7
Matt Dimit Hunington, IN
Hunington, IN
-10
21
17
43
Todd Jackson Sault ste. Marie, MI
Sault ste. Marie, MI
-4
22
15
31
Doug Meyer North Canton, OH
North Canton, OH
-7
23
5
T3
Walt Obrinske Jr Albion, MI
Albion, MI
-18
24
16
93
Curtis Spencer Owosso, MI
Owosso, MI
-8
Finish
Start
#
Competitor
Hometown
+/-
1
5
84
Bubba Brooks Kalamazoo, MI
Kalamazoo, MI
4
2
13
22H
Kyle Hayden Clio, MI
Clio, MI
11
3
4
16
Scott Lamp Davison, MI
Davison, MI
1
4
3
116
Nick Clemens Columbiaville, MI
Columbiaville, MI
-1
5
8
61
Brad Springer Hudson, IN
Hudson, IN
3
6
9
93M
Thomas Mays Salt Rock, WV
Salt Rock, WV
3
7
2
12B
Tim Burkett Hamilton, IN
Hamilton, IN
-5
8
6
81
Terry Fisher Jr Fort Wayne, IN
Fort Wayne, IN
-2
9
12
10
Scott Clifford New Lothrop, MI
New Lothrop, MI
3
10
7
66
Cole Carper Angola, IN
Angola, IN
-3
11
10
15P
Jeremy Pletz , MI
, MI
-1
12
1
3
Alexander Donnert Waterford, MI
Waterford, MI
-11
DNS
11
1K
Al Berry Albion, IN
Albion, IN
-
Finish
Start
#
Competitor
Hometown
+/-
1
2
22
Aaron Taylor Jackson, MI
Jackson, MI
1
2
7
68
J.J. Schafer
5
3
1
6
AJ Reynolds Garrett, IN
Garrett, IN
-2
4
5
15
Justin Noffsinger Whittemore, MI
Whittemore, MI
1
5
10
27L
Nick Larabee Hastings, MI
Hastings, MI
5
6
9
7K
Dawson Knaul Marysville, OH
Marysville, OH
3
7
4
555
Dale Spencer Ovid, MI
Ovid, MI
-3
8
6
12N
Dave Nester Edon, OH
Edon, OH
-2
9
12
68V
Trenten Vogts Albion, IN
Albion, IN
3
10
3
92
Steve Shlater Jr Fort Wayne, IN
Fort Wayne, IN
-7
DNS
8
06
Nicolas Weimer Auburn, IN
Auburn, IN
-
DNS
13
33
Tyler Minix
-
DNS
11
12X
Michael Occhipinti Dearborn, MI
Dearborn, MI
-
Finish
Start
#
Competitor
Hometown
Time
1
50
5
Jeff Ganus Constantine, MI
Constantine, MI
2
46
46
Cody Stickler Pinellas Park, FL
Pinellas Park, FL
3
40
5J
Danny Jackson Loveland, OH
Loveland, OH
4
33
65
Jonathan Martin Leo, IN
Leo, IN
5
30
70X
Tom Rutherford Bangor, MI
Bangor, MI
6
47
T3
Walt Obrinske Jr Albion, MI
Albion, MI
7
37
7
Matt Dimit Hunington, IN
Hunington, IN
8
39
7W
Josh Ware Barbeau, MI
Barbeau, MI
9
44
37
Trevor Berry Clio, MI
Clio, MI
10
17
78
Travis Eddy Beaverton, MI
Beaverton, MI
11
38
57
Blake Rowe Ortonville, MI
Ortonville, MI
12
49
11
Brian Nester Hamilton, IN
Hamilton, IN
13
41
1W
Michael Luberda Augres, MI
Augres, MI
14
36
95
Derrick Griffin
15
31
31
Doug Meyer North Canton, OH
North Canton, OH
16
42
93
Curtis Spencer Owosso, MI
Owosso, MI
17
16
43
Todd Jackson Sault ste. Marie, MI
Sault ste. Marie, MI
18
11
7V
Dominique Van Wieringen Amherstburg, ON
Amherstburg, ON
19
45
31P
Jason Parish Eaton Rapids, MI
Eaton Rapids, MI
20
43
12L
Nick Lechota Flushing, MI
Flushing, MI
21
18
05
Greg Fullarton Howell, MI
Howell, MI
22
35
12
Brian Bergakker Middleville, MI
Middleville, MI
23
25
24
Buddy Gray Petoskey, MI
Petoskey, MI
24
14
55
Steve Saddison ALANSON, MI
ALANSON, MI
Top 24 transfer
25
22
66
Cole Carper Angola, IN
Angola, IN
26
34
81
Terry Fisher Jr Fort Wayne, IN
Fort Wayne, IN
27
24
84
Bubba Brooks Kalamazoo, MI
Kalamazoo, MI
28
32
16
Scott Lamp Davison, MI
Davison, MI
29
29
116
Nick Clemens Columbiaville, MI
Columbiaville, MI
30
20
12B
Tim Burkett Hamilton, IN
Hamilton, IN
31
21
3
Alexander Donnert Waterford, MI
Waterford, MI
32
13
61
Brad Springer Hudson, IN
Hudson, IN
33
6
93M
Thomas Mays Salt Rock, WV
Salt Rock, WV
34
7
15P
Jeremy Pletz , MI
, MI
35
28
1K
Al Berry Albion, IN
Albion, IN
36
9
10
Scott Clifford New Lothrop, MI
New Lothrop, MI
37
26
22H
Kyle Hayden Clio, MI
Clio, MI
38
23
68
J.J. Schafer
39
10
12N
Dave Nester Edon, OH
Edon, OH
40
12
15
Justin Noffsinger Whittemore, MI
Whittemore, MI
41
4
555
Dale Spencer Ovid, MI
Ovid, MI
42
5
92
Steve Shlater Jr Fort Wayne, IN
Fort Wayne, IN
43
27
22
Aaron Taylor Jackson, MI
Jackson, MI
44
19
6
AJ Reynolds Garrett, IN
Garrett, IN
45
48
06
Nicolas Weimer Auburn, IN
Auburn, IN
46
3
7K
Dawson Knaul Marysville, OH
Marysville, OH
47
8
27L
Nick Larabee Hastings, MI
Hastings, MI
48
15
12X
Michael Occhipinti Dearborn, MI
Dearborn, MI
49
2
68V
Trenten Vogts Albion, IN
Albion, IN
50
1
33
Tyler Minix
Dragon Racing Fuel Street Stocks
Finish
Start
#
Competitor
Hometown
+/-
1
16
3
Shawn Amor Walkerton, IN
Walkerton, IN
15
2
11
153
Gabe Carr Scotts, MI
Scotts, MI
9
3
13
2
Jeff Town Otsego, MI
Otsego, MI
10
4
10
25R
Kyle Ribble Gun Lake, MI
Gun Lake, MI
6
5
12
10S
Tom Stone Linden, MI
Linden, MI
7
6
1
70C
Elliot Castle Monroeville, IN
Monroeville, IN
-5
7
4
25
Madi Snyder Kalamazoo, MI
Kalamazoo, MI
-3
8
3
10
Roy Barroquillo Wolcottville, IN
Wolcottville, IN
-5
9
9
145
Mike Havens Jackson, MI
Jackson, MI
-
10
7
22
Jerry Ballard
-3
11
6
67
Aaron Newman Battle Creek, MI
Battle Creek, MI
-5
12
18
8
Race Bible
6
13
17
6F
Lucas Fischer Jackson, MI
Jackson, MI
4
14
8
70
Dennis Craft Leslie, MI
Leslie, MI
-6
15
14
5
Brock Ganus Constantine, MI
Constantine, MI
-1
16
2
09
Robbie Drummond Ft. Wayne, IN
Ft. Wayne, IN
-14
17
15
11
Colin Bozell Kalamazoo, MI
Kalamazoo, MI
-2
18
5
3M
Chris Munson Chelsey, MI
Chelsey, MI
-13
19
13
Dan Baschal
-
Finish
Start
#
Competitor
Hometown
Time
1
1
3
Shawn Amor Walkerton, IN
Walkerton, IN
16.308
2
5
11
Colin Bozell Kalamazoo, MI
Kalamazoo, MI
16.465
3
9
5
Brock Ganus Constantine, MI
Constantine, MI
16.507
4
14
2
Jeff Town Otsego, MI
Otsego, MI
16.531
5
13
10S
Tom Stone Linden, MI
Linden, MI
16.576
6
6
153
Gabe Carr Scotts, MI
Scotts, MI
16.712
7
17
25R
Kyle Ribble Gun Lake, MI
Gun Lake, MI
16.741
8
10
145
Mike Havens Jackson, MI
Jackson, MI
16.744
9
8
70
Dennis Craft Leslie, MI
Leslie, MI
16.784
10
2
22
Jerry Ballard
16.898
11
11
67
Aaron Newman Battle Creek, MI
Battle Creek, MI
16.951
12
16
3M
Chris Munson Chelsey, MI
Chelsey, MI
16.973
13
12
25
Madi Snyder Kalamazoo, MI
Kalamazoo, MI
17.007
14
3
10
Roy Barroquillo Wolcottville, IN
Wolcottville, IN
17.021
15
15
09
Robbie Drummond Ft. Wayne, IN
Ft. Wayne, IN
17.029
16
4
8
Race Bible
17.038
17
7
70C
Elliot Castle Monroeville, IN
Monroeville, IN
17.077
18
18
6F
Lucas Fischer Jackson, MI
Jackson, MI
17.465
Port Stocks
Finish
Start
#
Competitor
Hometown
+/-
1
16
0S
Will Slaughter Battle Creek, MI
Battle Creek, MI
15
2
18
5
Ryan Hollister Olivet, MI
Olivet, MI
16
3
17
5M
Gavin McGuffey Battle Creek, MI
Battle Creek, MI
14
4
14
46
Bryan Gates Sturgis, MI
Sturgis, MI
10
5
19
18
Ryan Drumhiller Jackson, MI
Jackson, MI
14
6
21
27
Dave Leonard Jr Kalamazoo, MI
Kalamazoo, MI
15
7
9
1L
Andrew Losey East Leroy, MI
East Leroy, MI
2
8
15
15
Matthew Brauer Hickory Corners, MI
Hickory Corners, MI
7
9
5
49
Josh Sattler Charlotte, MI
Charlotte, MI
-4
10
7
81O
Ryan Osborne Battle Creek, MI
Battle Creek, MI
-3
11
2
99
Tim Lyon Holt, MI
Holt, MI
-9
12
1
80
Mike Rose Battle Creek, MI
Battle Creek, MI
-11
13
4
24
Josh Salander Owosso, MI
Owosso, MI
-9
14
10
0
Tyler Reading
-4
15
6
69
Randy Moore Ashley, MI
Ashley, MI
-9
16
8
71
Jimmy Burchett Parma, MI
Parma, MI
-8
17
3
6
Brad Robison Lansing, MI
Lansing, MI
-14
18
11
41
Jacob Newman Holt, MI
Holt, MI
-7
19
12
15R
Leland Riddle Battle Creek, MI
Battle Creek, MI
-7
DNS
13
6D
Pat Dent Lansing, MI
Lansing, MI
-
DQ
20
3
Ben Wilcox Three Rivers, MI
Three Rivers, MI
-
Finish
Start
#
Competitor
Hometown
+/-
1
14
04
Ashley Walters Ft Wayne, IN
Ft Wayne, IN
13
2
16
95
Chris Elwell Kalamazoo, MI
Kalamazoo, MI
14
3
13
55
Daniel Abercrombie Battle Creek, MI
Battle Creek, MI
10
4
12
64
Amanda Weatherwax West Olive, MI
West Olive, MI
8
5
5
27K
Terry Kline , MI
, MI
-
6
9
74
Billy Edwards Springport, MI
Springport, MI
3
7
8
42
Dennis Motes Pleasant Lake, MI
Pleasant Lake, MI
1
8
7
2
Bennie Miller Onondaga, MI
Onondaga, MI
-1
9
10
61
Kevin McShane Pinckney, MI
Pinckney, MI
1
10
6
11
Gabrielle Hill Lansing, MI
Lansing, MI
-4
11
17
00
Mike Currier Fenwick, MI
Fenwick, MI
6
12
18
7
Brandon French Lawton, MI
Lawton, MI
6
13
11
8
William Trudgen Jackson, MI
Jackson, MI
-2
14
3
0A
Amanda Currier Fenwick, MI
Fenwick, MI
-11
15
2
15L
David Lux
-13
16
1
25
Sheldon Lindlag Fort Wayne, IN
Fort Wayne, IN
-15
17
15
4X
Summer Velasquez Kalamazoo, MI
Kalamazoo, MI
-2
Finish
Start
#
Competitor
Hometown
Time
1
32
3
Ben Wilcox Three Rivers, MI
Three Rivers, MI
17.530
2
6
18
Ryan Drumhiller Jackson, MI
Jackson, MI
17.536
3
10
5
Ryan Hollister Olivet, MI
Olivet, MI
17.539
4
38
5M
Gavin McGuffey Battle Creek, MI
Battle Creek, MI
17.572
5
39
0S
Will Slaughter Battle Creek, MI
Battle Creek, MI
17.597
6
2
15
Matthew Brauer Hickory Corners, MI
Hickory Corners, MI
17.929
7
8
46
Bryan Gates Sturgis, MI
Sturgis, MI
18.062
8
5
6D
Pat Dent Lansing, MI
Lansing, MI
18.068
9
23
15R
Leland Riddle Battle Creek, MI
Battle Creek, MI
18.093
10
20
41
Jacob Newman Holt, MI
Holt, MI
18.206
11
22
0
Tyler Reading
18.224
12
37
1L
Andrew Losey East Leroy, MI
East Leroy, MI
18.232
13
3
71
Jimmy Burchett Parma, MI
Parma, MI
18.745
14
21
81O
Ryan Osborne Battle Creek, MI
Battle Creek, MI
18.811
15
18
69
Randy Moore Ashley, MI
Ashley, MI
19.009
16
27
49
Josh Sattler Charlotte, MI
Charlotte, MI
19.242
17
26
24
Josh Salander Owosso, MI
Owosso, MI
19.294
18
24
6
Brad Robison Lansing, MI
Lansing, MI
19.351
19
14
99
Tim Lyon Holt, MI
Holt, MI
19.391
20
25
80
Mike Rose Battle Creek, MI
Battle Creek, MI
19.538
21
11
27
Dave Leonard Jr Kalamazoo, MI
Kalamazoo, MI
19.539
Top 21 transfer
22
40
4X
Summer Velasquez Kalamazoo, MI
Kalamazoo, MI
19.590
23
30
04
Ashley Walters Ft Wayne, IN
Ft Wayne, IN
19.665
24
1
55
Daniel Abercrombie Battle Creek, MI
Battle Creek, MI
19.697
25
31
64
Amanda Weatherwax West Olive, MI
West Olive, MI
19.861
26
29
8
William Trudgen Jackson, MI
Jackson, MI
20.021
27
16
61
Kevin McShane Pinckney, MI
Pinckney, MI
20.051
28
7
74
Billy Edwards Springport, MI
Springport, MI
20.098
29
19
42
Dennis Motes Pleasant Lake, MI
Pleasant Lake, MI
20.214
30
17
2
Bennie Miller Onondaga, MI
Onondaga, MI
20.347
31
9
11
Gabrielle Hill Lansing, MI
Lansing, MI
20.469
32
36
27K
Terry Kline , MI
, MI
20.505
33
4
88
TJ Cesco Homer, MI
Homer, MI
20.645
34
33
0A
Amanda Currier Fenwick, MI
Fenwick, MI
20.647
35
13
15L
David Lux
20.920
36
12
25
Sheldon Lindlag Fort Wayne, IN
Fort Wayne, IN
23.379
37
35
95
Chris Elwell Kalamazoo, MI
Kalamazoo, MI
53.487
38
34
00
Mike Currier Fenwick, MI
Fenwick, MI
53.487