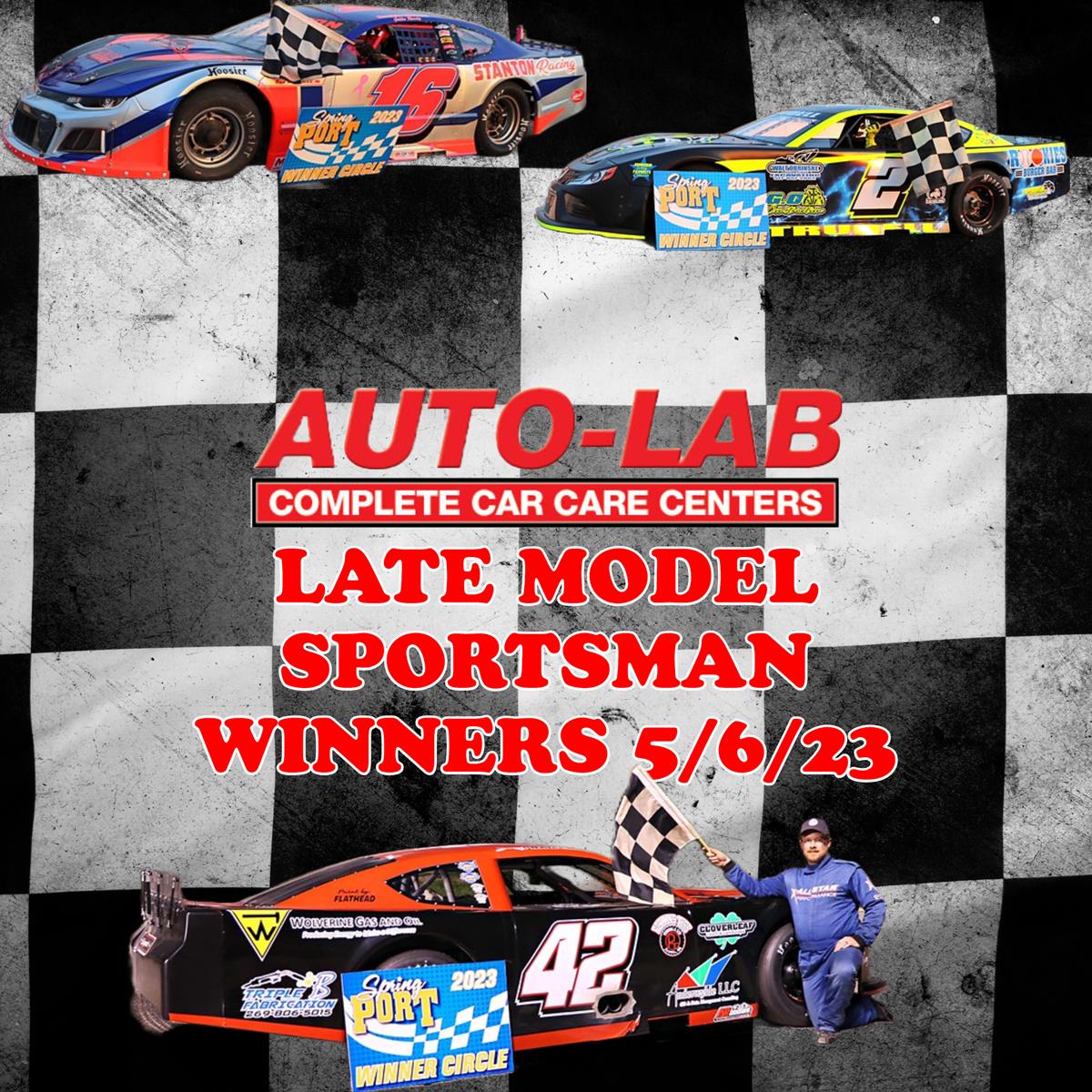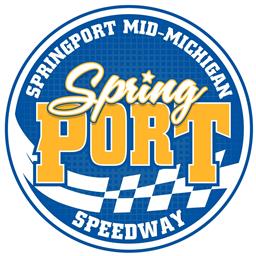 5/14/2023
Springport Mid-Michigan Speedway
---
Auto Lab Late Model Sportsman Recap From 5/6/2023
Auto Lab Latemodel Sportsman wrapped up heat races and features on 5/6/2023. We had 14 total Auto Lab Latemodel Sportsman on property.
Heat Race #1 lineup: Evan Jenks (elected to start at the rear), Austin Jenks, Matt Stanton, Michael Loshe, Brian Teske (DNS), Pierre Goulet, and Jesse Opliger. Michael Loshe leads on the back stretch after coming to green and Austin Jenks spun in the middle of the back stretch bringing out our 1st caution. We had a complete restart since we did not get a lap in and Evan Jenks pulled in to the pit area with a problem. Michael Loshe from Monroe, IN jumped out to the early lead 3 wide with Austin Jenks in the middle and Jesse Opliger on the inside. Jesse Opliger moved up to 2nd and Austin Jenks got shuffled back to 3rd. Jesse Opliger and Michael Loshe two Hoosier state residents showed the field how its done as they pulled away. One driver who was on the move was Matt Stanton in 2 laps he was challenging Michael Loshe for 2nd place. The drag race for 2nd place was short lived as Stanton was able to get by Loshe. Stanton then went on to chase down our leader Jesse Opliger. In 2 laps Stanton was challenging Opliger for the lead. One lap prior to 1 to go Stanton is the leader and Opliger was doing all he could to chase down Stanton. Opliger could not chase down Matt Stanton and Stanton won heat race #1 for the Auto Lab Latemodel Sportsman. Great race at the back of the pack between Pierre Goulet and Austin Jenks Goulet ended up 4th by inches and Jenks came home 5th what a race!
Heat Race #2 Lineup: Chris Munson, John Trudell, JD Hancock, Tony Dager, Brandon Barcus(DNS), Jerry Hinton, and Jerry Pierman. Early leader was John Trudell great battle for 2nd between Chris Munson and Tony Dager. Pierman then challenged Dager for 3rd down the back stretch while Dager challenged Munson down low in 3. Munson was still able to hold off Dager. A lap later Dager was able to get around Munson for 2nd. Then down the back stretch Pierman challenged Munson for 3rd. By the time Munson and Pierman got to turn 3 Pierman made the pass for 3rd and JD Hancock followed Pierman through to take 4th place away from Munson. Pierman and Dager started drag racing for 2nd and a lap later Pierman was able to get around Dager. John Trudell was victorious in Heat Race #2.
Feature lineup: Jesse Opliger, Chris Munson, John Trudell, JD Hancock, Tony Dager, Brandon Barcus, Jake Hinton, Jerry Pierman, Pierre Goulet, Brian Teske (DNS), Michael Loshe, Matt Stanton, Austin Jenks, and Evan Jenks. Munson and Opliger put on a drag race for lap 1. Munson, Opliger, and Dager put on a show as the 3 of them were battling in out at the front. Munson had a car length over Dager and Opliger as they battled for 2nd and 3rd. Then Pierman was able to get by Opliger for 3rd. Jake Hinton challenged Opliger on the outside of Opliger for 4th. Brandon Barcus was the next in line to challenge Opliger and it would be for 5th. Barcus was able to get around Opliger for 5th. Pierman went on to challenge Dager for the lead. Mean while, Barcus put the pass on Munson for 4th. caution came out for Evan Jenks. Caution came out as Tony Dager jumped the start. Pierman and Dager drag race after the restart. After 1 lap after the restart Pierman was able to get around Dager. Hinton Dager battle for 2nd and Hinton able to get around Dager. Barcus and Dager start battling for 3rd with Trudell looking on. Trudell makes his move inside Dager for 4th. Trudell and Barcus battle for 3rd. Trudell able to get by and takes over 3rd. Jerry Pierman wins the feature! Here is the rest of the results: Jake Hinton, John Trudell, Brandon Barcus, Tony Dager, Matt Stanton, Chris Munson, Jesse Opliger, Pierre Goulet, Austin Jenks, Evan Jenks, and Michael Loshe.
---
Article Credit: Sean Sprague
Submitted By: Sean Sprague
Back to News